The medical device manufacturing company, Exactech recently launched a massive recall on all knee replacement implants produced after 2004. This Exactech knee replacement recall was due to a packaging failure that exposed the inserts to oxygen, causing them to degrade over time. This degradation has left many patients in pain, requiring them to have revision surgery.
If you or a loved one have experienced complications from an Exactech knee replacement, you are eligible for compensation. An experienced Exactech knee replacement lawyer is what you need to get the compensation you deserve. This article will cover everything you need to know about Exactech knee replacement lawsuits.
Overview of the Exactech Knee Replacement Lawsuit
In February 2022, Exactech, a leading medical device manufacturer, recalled hundreds of thousands of knee replacement devices implanted in patients between 2004 and 2022. The company sent an Urgent Medical Device Correction notice to all knee and ankle surgeons, clinics, and healthcare professionals.
The notice stated that Exactech expanded its August 31, 2021, recall to include "all knee and ankle arthroplasty polyethylene inserts packaged in non-conforming bags regardless of label or shelf life." Patients who received these devices have reported complications such as pain, swelling, and difficulty walking. In some cases, the knee replacement implants failed, requiring corrective revision surgery to remove and replace them.
The Exactech knee replacement lawsuit was filed by patients who have received these defective knee implants. They are seeking compensation for the damages they have suffered due to the complications caused by these devices.
Why Was the Exactech Knee Implant Recalled?
As mentioned, Exactech recalled its knee replacement implants due to a packaging failure. It is crucial for the inserts not to come in contact with oxygen before being implanted into the body.
Oxygen causes oxidation and premature wear on the plastic inserts, leading to knee replacement failure. The packaging for the plastic inserts in this recall had room for airflow before insertion.
The knee replacement components and inserts manufactured over the last eight years were in oxygen-resistant vacuum bags. However, it was discovered that these bags were missing a barrier layer containing ethylene vinyl alcohol (EVOH) that further augments oxygen resistance.
This barrier layer is essential to prevent any airflow and oxygen from reaching the inserts before being implanted into the body. Therefore, without this barrier layer, the inserts were exposed to oxygen.
The Food and Drug Administration (FDA) classifies the Exactech recall as a Class II recall. The FDA issues a Class II recall when the use of or exposure to a violative product causes temporary or medically reversible adverse health consequences.
In the case of the Exactech knee replacement recall, the FDA determined that the affected inserts may cause premature wear, leading to knee replacement failure. This failure causes patients to experience pain and discomfort and require a second surgery. However, the recall is not associated with any death or serious injury.
Exactech has recalled over 140,000 Exactech joint implants for the hip, knee, and ankle. As a result, those affected are filing mass tort suits for compensation. If you or a loved one received one of the defective implants in the last ten years, you might qualify to join the lawsuit. Our experienced Exactech knee replacement attorneys at Rueb Stoller Daniel can help review your case.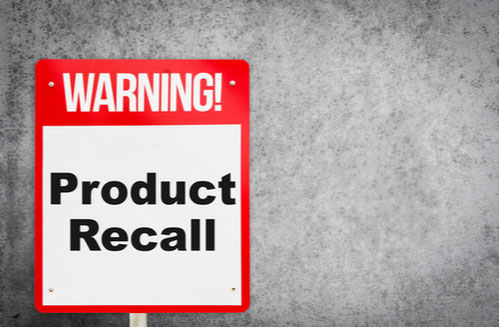 Recalled Exactech Implants
The following are the recalled Exactech implants:
OPTETRAK®
OPTETRAK LOGIC®
TRULIANT®
VANTAGE®
Potential Complications of a Defective Knee Insert
Again, patients with the recalled knee implants may experience joint pain. This limits their ability to perform daily activities such as walking, climbing stairs, and even sitting. Other complications include:
Knee swelling
Inability to bear weight on the implant
Instability or loosening
Stiffness
Grinding and clicking noise near affected joint
Bone tissue degeneration
Dislocation
Inflammation
Infection
Contact your doctor/surgeon immediately if you have an Exactech knee replacement. They will diagnose and help you understand your symptoms. They will also identify any damage and decide what medical options you have to correct the issues caused by the recalled knee inserts.
Exactech Lawsuit Settlement
Exactech has retained the services of a settlement adjusting company, Broadspire, to handle claims reimbursement. This means that it is possible for people affected by the recalled knee implants to receive financial compensation. Individuals who wish to file a claim can find details on how to do so on Exactech's website.
It's essential to review the information on the website carefully and contact Exactech or Broadspire with any questions or concerns. However, it is prudent not to handle the case yourself. Instead, hire an experienced Exactech knee replacement lawyer to guide you through this process. Your attorney will protect your rights and ensure you get the compensation you deserve.
Legal Claim of the Exactech Knee Replacement Lawsuit
The central legal claim in the Exactech knee replacement lawsuit is strict product liability. Under strict product liability laws, manufacturers are liable for injuries caused by defective products. This legal principle prevents manufacturers from shifting the cost of injuries onto consumers by holding them accountable for any damage caused by their goods.
Who Is Eligible?
If you received an Exactech knee insert between 2004 and 2022 and have experienced negative side effects, you might be eligible for compensation. However, you must establish some facts to have the right to file a lawsuit.
You must present medical proof that you had or have the Exactech knee implant. Your medical record should also show the degradation of the insert and the impact it had on you.
If you underwent corrective revision surgery, your doctor should include it. Our mass tort lawyers can help you gather the evidence needed to prove your claim.
What Compensation Is Recoverable in the Exactech Knee Replacement Lawsuit?
The compensation recoverable will depend on the specific circumstances of the case. Individuals eligible for compensation can recover expenses related to the defective implant, such as revision surgery, medical expenses, and lost wages. Others include:
Pain and suffering
Loss of earning capacity
Loss of enjoyment of life
Loss of consortium
Possible punitive damages
Contact the Best Exactech Knee Replacement Lawsuit Attorneys Today!
No one deserves to live in pain and have their quality of life reduced. Therefore, if you have a defective Exactech knee replacement implant, it is only fair that you receive compensation. You can file a lawsuit against Exactech and potentially recover compensation for your medical expenses, pain and suffering, and lost wages.
Our mass tort lawyers at Rueb Stoller Daniel have extensive experience and knowledge to get you the maximum compensation possible. Contact us today for a free case review.