Having a baby is one of the best and most life-changing feelings anyone can have; the love is indescribable. You'll naturally want to get them everything they need to live a comfortable life. Never will you envisage contacting a class action attorney to fight for compensation for their hurt. Unfortunately, this is the situation with many parents who once purchased the Fisher-Price baby sleeper for their kids.
The Fisher-Price baby sleeper is a "positioner" like nests, rockers, loungers, nappers, etc. However, unlike other baby positioners like swings and bouncers, Fisher-Price marketed their baby sleepers as "safe for all-night sleeping." But this was a false claim, and in April 2019, the manufacturers had to recall millions of these sleepers due to numerous associated risks.
So, what went wrong? How did such a seemingly helpful tool turn out to be so dangerous? Why was the Fisher-Price baby sleeper recalled? You'll find the answers to these questions, and more, below.
Why Was the Fisher-Price Baby Sleeper Recalled? 
The Fisher-Price Rock 'n Play sleeper is a popular product for infants and has been on the market since 2009. Parents purchased this product because it reclines, plays music, vibrates, and makes it easier for babies to fall asleep. They assumed it was safe since major stores across the country, like Target and Walmart, sold them. Unfortunately, this was a wrong assumption, as Fisher-Price recalled this product after it caused numerous fatalities.
The company recalled the Rock 'n Play sleepers because they had caused the death of over 30 infants since their introduction. According to the US Consumer Product Safety Commission, "the infants rolled over while unrestrained, or under other circumstances." Fisher-Price reannounced the recall in January 2023 after the products had caused about 70 more fatalities since the 2019 recall. That's because the products remained in circulation despite the first announcement.
How Do Rock 'n Play Sleepers Cause Injuries to Infants?
Besides death by suffocation, Fisher-Price baby sleepers can cause neck and brain injuries. This is because the product has a sleeping area with a 10° to 30° incline. Many parents thought that the incline helped in reducing the risk of reflux. Unfortunately, that's not the case.
According to numerous health organizations like the American Academy of Pediatrics (AAP), babies must only sleep on non-inclined surfaces. This is because placing infants to sleep in inclined angles (like in baby sleepers) can easily obstruct their airways. Health experts say that infants' heads can slump forward in a chin-to-chest position, making breathing difficult. This typically results in asphyxiation or death by suffocation.
Again, the padding can cause suffocation if babies shift or roll against it as they sleep. This is especially because infants can hardly move their heads out of dangerous positions without external help. There is also the possibility of babies falling after rolling out of the inclined sleepers. Finally, the inclined sleepers may trap them underneath if the infants tip them over.
Can a Class Action Attorney File a Fisher-Price Baby Sleeper Lawsuit on My Behalf? 
Numerous parents have filed class action lawsuits against Fisher-Price with their class action attorney since they discovered the reason for their infants' deaths. They're suing for fraud, negligent misrepresentation, gross negligence, breach of express and implied warranty, and wrongful death. Fortunately, you, too, can file a lawsuit against the manufacturer with help from your class action attorney.
The claim is on issues with Fisher-Price's design and marketing. First, as we mentioned already, the manufacturers marketed baby sleepers as great for napping and overnight sleeping. This went contrary to numerous medical advice that infants must only sleep on flat surfaces.
Fisher-Price once denied that the sleepers were directly responsible for the recorded infant fatalities.  According to them, there were other contributing factors like additional bedding, improper product use, illness, etc. However, plaintiffs argue that the number of child deaths should have immediately raised questions in the manufacturers' minds. Instead, they negligently waited too long to recall the sleepers, leading to more avoidable fatalities.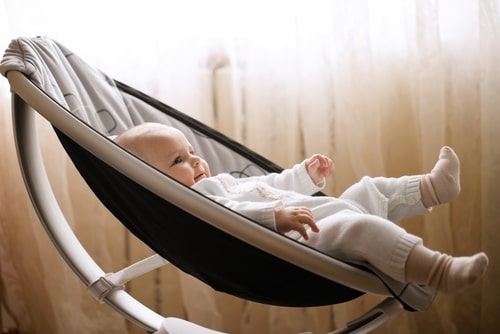 One of the class action lawsuits involves Samantha Drover-Mundy and Zachary Mundy of Delaware as the lead plaintiffs. The couple lost their 3-month-old daughter, L.M., after only a few minutes in the sleeper. According to the complaint, "L.M.'s death was a shattering event which would not have occurred if the Rock 'n Play's design was safe…Nor did the recall come soon enough for dozens of other children who have died in the Rock 'n Play. Many more have been seriously injured."
In a report by the Washington Post, Fisher-Price manufactured the sleepers without the required medical safety tests. Instead of seeking medical advice from qualified pediatricians, they relied on the "go-ahead" from a single family doctor. According to the report, the physician's "expertise had already been doubted by judges." After reviewing court documents, the Washington Post also discovered that this Texan family doctor eventually lost his medical license.
You must speak with your lawyer if you're qualified for a Fisher baby sleeper lawsuit. A class action attorney will file a lawsuit on your behalf and ensure that you get maximum compensation for your loss.
How Much Will I Receive in a Fisher-Price Baby Sleeper Lawsuit Settlement? 
Although some claimants have received million-dollar settlements, there's no definite compensatory amount for Fisher-Price baby sleeper lawsuits. So, the amount you'll receive as compensation depends on numerous factors and your case's specifics. These include the state you filed the lawsuit, the circumstances surrounding your infant's death, etc.
If you want to get accurate estimates of your case's worth, speak with your attorney immediately. Generally, compensatory sums include pain and suffering,  medical bills, funeral expenses, loss of companionship, etc.
What Do I Do If I Have a Fisher-Price Rock 'N Play Sleeper?
If you own a Fisher-Price Rock 'n Play baby sleeper, stop using it immediately. Instead, visit the manufacturing company to request a refund. Be sure not to distribute or sell the recalled sleepers, as doing so is illegal. However, if it has already caused harm to your child, it's best to keep it safe for evidence purposes.
Contact the Best Class Action Attorneys at Rueb Stoller Daniel!
While parenting is fun and rewarding, it can also be an exhausting and demanding full-time job. As such, finding a baby product to place your child safely while you perform other tasks is a huge relief. Unfortunately, Fisher-Price Rock 'n Play baby sleepers are not safe and can harm your infant in numerous ways.
Therefore, did a Fisher-Price Rock 'n Play baby sleeper injure or cause your child's death? A mass tort lawyer at Rueb Stoller Daniel can ensure that you get maximum compensation for your loss. Contact us today for more information on how we can help you win your Fisher-Price Rock 'n Play baby sleeper claim.