The Consumer Product Safety Commission (CPSC) announced in January 2023 that about 100 deaths have been linked to Fisher-Price's recalled Rock 'n Play Sleepers. If your child has been harmed because of one of these devices – or, worse, your baby has died – you have our firm's deepest condolences. We want to help you pursue justice for your child.
Parents whose babies have been injured by these sleepers may have the right to pursue monetary compensation for their children's injuries and deaths. Let Rueb Stoller Daniel help by providing you with a free case review so we can explain your options and get started on your case.
Call our team of mass tort & class action lawyers today at 1-866-CALL-RSD to learn more about how we can help your Fisher Price Rock and Play Sleeper recall lawsuit.
Basic Information About the Fisher-Price Baby Sleeper Recall and Deaths
The Consumer Product Safety Commission recently announced that there have been about 100 deaths connected to Fisher Price Rock 'n Play Sleepers, which were originally recalled in April 2019 following reports of over 30 infant deaths. These deaths were the result of infants rolling from their backs to their stomachs or sides while unrestrained, among other circumstances.
Following the 2019 recall, there have been approximately 70 more deaths linked to these sleepers. Fisher-Price contends it has been unable to confirm the circumstances surrounding some of these fatalities, or whether the product involved was one of its sleepers. But according to the CPSC, at least eight of the newly-reported deaths happened after the initial recall.
According to cpsc.gov, Fisher-Price reannounced the recall in January 2023.
How Many Sleepers Were Affected?
All models of the Rock 'n Play Sleeper are covered by Fisher-Price's recently reannounced recall, which totals nearly 4.7 million sleepers. The affected units were sold from September 2009 to April 2019 at Walmart, Target, and other major retailers. Parents may also have purchased the sleepers from Amazon. Their cost was anywhere from $40 to $149.
What Should Parents Who Own the Sleepers Do?
If you're a parent who owns one of the Rock 'n Play Sleepers, stop using it immediately. Do not sell or give the item to another parent or anyone else. You do have the option to contact Fisher-Price to obtain a voucher or refund, according to the CPSC.
But before you do, it is strongly suggested that you contact an attorney, especially if your child has been injured. Our law firm is available to answer your questions and concerns.
How Are Children Being Killed?
Infants placed in the Rock 'n Play Sleepers have been able to roll over, unrestrained, from their backs to their stomachs or sides. The American Academy of Pediatrics has recommended, since 1992, that infants and newborns sleep on their backs on flat, firm surfaces.
The Rock 'n Play Sleeper allows a baby to position itself in a manner that causes a substantial risk of smothering, suffocation, or asphyxiation. Other possible conditions resulting from a baby's placement in the sleeper include Sudden Infant Death Syndrome (SIDS), twisted neck syndrome, and flathead syndrome.
Smothering, Suffocation, or Asphyxiation
The Rock 'n Play Sleeper is an inclined sleeper with soft bedding. If the infant can roll over in it, he or she can easily suffocate. There is also a risk of positional asphyxiation due to the incline. This is a condition that occurs when an infant's or newborn's position prevents him or her from breathing adequately.
Sudden Infant Death Syndrome (SIDS)
This is the abrupt, unexplained death of an otherwise healthy baby that is usually under one year of age. Death often occurs during sleep. Placing a baby on its back is the number one precaution that parents are urged to take to avoid SIDS.
Twisted Neck Syndrome
Also known as torticollis, this condition occurs when an infant holds his or her neck to one side too long and has difficulty turning it to the opposite side. It can be acquired due to poor positioning brought on by an infant sleeper.
Flathead Syndrome
More formally known as plagiocephaly, flathead syndrome is usually evidenced by a flat spot on a baby's head. It often happens when a baby spends too much time with its head turned to the same side.
Can I Pursue a Fisher Price Rock andPlay Sleeper Recall Lawsuit?
Any parents whose infant or newborn either suffered injuries or died after being placed in a Rock 'n Play Sleeper may have the right to take legal action against Fisher-Price and other liable parties. It will be up to the parents, working with a knowledgeable attorney, to establish a few basic facts. They include:
The parents owned one of the Rock 'n Play Sleepers.
The parents had an infant under one year of age who was placed in the sleeper.
As a result of being placed in the sleeper, the infant died or suffered an injury.
The parents thereby incurred personal and financial losses.
If the baby survives, your attorney will help maintain a mass tort lawsuit, which is a legal action that happens when numerous individuals file a product liability claim against the responsible parties (including but not limited to Fisher-Price). In the event the child dies, this claim will take the form of a wrongful death lawsuit.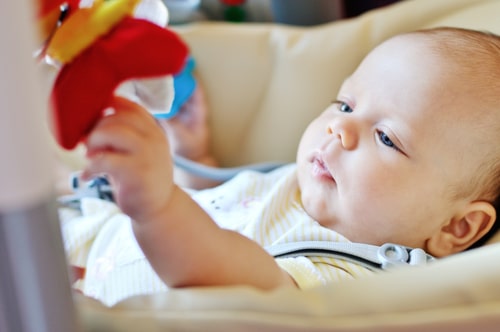 What Kinds of Damages May Be Available?
An experienced mass tort attorney can help you win damages to compensate for the above and other losses. Every legal claim involving the Rock 'n Play Sleeper is different, but as a general matter, parents have the right to pursue (among other damages):
Medical bills for any care the infant or newborn requires
Funeral and burial expenses in the event the baby dies
Other wrongful death damages such as loss of companionship
How Can Our Lawyers Help?
No parents should have to worry that a product they purchase for their infant or newborn could somehow cause injury or death. When a company manufactures a product (such as a sleeper) and sells it to the general public, the company is responsible for ensuring its safety.
If they fail to do so, and an infant or newborn dies as a result, the parents have the right to take legal action against the manufacturer. Other parties, such as the retail outlet that sold the sleeper, could also potentially be held liable.
Over 50 Years of Experience in Mass Tort and Class Action
Rueb Stoller Daniel is an experienced law firm that has represented tens of thousands of clients across the country in complex multi-district mass tort litigation, wrongful death lawsuits, and related actions. We understand the statutes, the rules of evidence, the rules of civil procedure, and the other laws and rules that bear on these types of claims.
When you retain us, you will have a dedicated, compassionate legal team standing with you, ready to answer your questions and concerns.
Gathering Evidence
We will immediately get to work building a case that is custom-tailored to your unique circumstances and focused on compensating you for your precise losses. We are tenacious courtroom litigators who are ready to take on the powerful lawyers and insurance companies that defend giant corporations like Fisher-Price.
We start by obtaining the evidence necessary to support your claims. As a plaintiff, it will be your obligation to prove that Fisher-Price acted negligently in selling and distributing its sleeper product, as well as proving the liability of other responsible parties. We use a number of discovery tools, such as requests for production of documents, depositions, and interrogatories, to acquire the evidence necessary to make a compelling legal claim.
Will My Case Settle?
Rueb Stoller Daniel is ready to take your case in front of a jury if necessary. Many mass tort lawsuits, however, settle before they reach trial. If possible, we will negotiate a settlement that fairly and fully compensates you and your family for the losses you've experienced because of Fisher Price rock and play sleeper. You, the client, will ultimately be in charge of deciding whether to accept a proposed settlement.
Our goal as negotiators is to present to the opposing party the strength of your claims and justification for your demand for damages. These negotiations will likely take place with a third-party neutral, such as a mediator, who can help facilitate discussions. During the process we will keep you informed as to the progress of negotiations and explain to you the advantages and drawbacks of settling the case versus moving ahead with trial.
In the event the defendants in your case are not willing to negotiate fairly, we will be prepared to take your action to court.
Contact Us for a Free Case Review
Rueb Stoller Daniel is actively recruiting plaintiffs whose infants or newborns were harmed because of Fisher-Price's recalled sleepers. If your baby has been injured or has died because of these products, you have our sympathies. Let us help alleviate the financial and personal burden by taking action against the at-fault parties in your case.
Although no amount of money can reverse what was done to your child, you can win the financial compensation you need to handle medical bills and other losses. You can also rest assured that the action you take will help hold Fisher-Price and other parties accountable, hopefully preventing similar tragedies from affecting numerous other families.
If you're ready to learn more about your legal options, call Rueb Stoller Daniel at 1-866-CALL-RSD to begin your free case evaluation. Contact us today.