If you pay attention to the news, you have probably heard about the NEC baby formula lawsuits. Over a hundred lawsuits have now been filed against both Abbott Laboratories and Mead Johnson Nutrition Company. The question you may have is what the litigation is all about and whether you have a claim. 
Many of the Baby Formulas Made by These Defendants Contain Cow Milk
Two of the most popular baby formulas on the market are Enfamil and Similac. They have been on the shelves for decades. Not surprisingly, many new mothers trust these brands. 
Sadly, the recent NEC baby formula lawsuits have led many mass tort lawyers to believe that the companies have been taking advantage of their customers for years. 
One of the reasons so many parents purchased Similac and Enfamil is because the manufacturers boasted that the formula contained real cow milk. They advised consumers that cow milk was better for premature babies as compared to breast milk. 
What they didn't tell their customers is that this milk could cause a dangerous condition in premature infants. 
NEC Infant Formula Lawsuit Plaintiffs Claim the Manufacturers Knew the Risks
The mass tort lawyers handling the claims against Abbott and Mead Johnson are claiming that the manufacturers knew their product was dangerous. Yet they not only failed to warn customers of the dangers, but they also encouraged parents to feed it to their newborn children.
The problem the plaintiffs' attorneys have with the defendants is that they misled customers in two significant ways.
They told customers that cow milk was healthier for premature infants than breast milk.

They also failed to tell consumers that their product increased their babies' risk of contracting NEC.
The Claim Is That Abbott Labs and Mead Johnson Sold a Product That Causes NEC
The primary allegation being made against the formula manufacturers is that their product makes premature babies sick. Experts have found a link between cow milk and a condition called NEC.
NEC, or necrotizing enterocolitis, is a condition that affects a baby's small and large intestines. The inner linings of the intestines are damaged. Eventually, this can create a hole in the intestines.
The bacteria then escape through the hole and spread infection throughout the baby's body. At the same time, the intestines themselves start to slowly die. This makes it nearly impossible for the baby to eat properly and absorb the nutrients they need to stay healthy.
The Defendants Deny That They Have Done Anything Wrong
One of the reasons the NEC baby formula lawsuits have not settled is because the defendants insist that their product is safe. They also insist that they didn't mislead their customers.
It will be interesting how this turns out. One of the arguments some of the mass tort lawyers are making is that the manufacturers misled consumers by saying that bovine milk is better for premature infants than breast milk.
At the same time, there is considerable evidence that formula with cow's milk is no more likely than breast milk to cause NEC. It may come down to a matter of whether the manufacturers, Abbott Laboratories and Mead Johnson Nutrition Company, should have warned their customers about the dangers of NEC.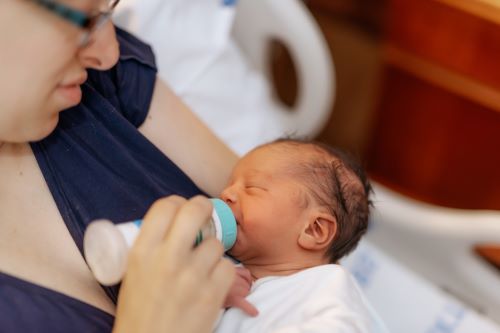 What Are the Symptoms of Necrotizing Enterocolitis?
If you're worried that your infant may be suffering from necrotizing enterocolitis (NEC), there are things to look out for. If you notice any of these symptoms, you need to take your child to the emergency room immediately.
Bloody stool

Discoloration of the abdomen

Poor eating 

Swelling or bloating of the abdomen

Difficulty breathing

Vomiting
These are other signs that an infant may have NEC. Just keep in mind that if your child has not been fed either of the formulas, then you will not be able to file a baby formula lawsuit. 
Are There Treatments for NEC?
While there are possible treatments for NEC, they are not always successful. Sadly, many of the 112 plaintiffs in the NEC infant formula lawsuits lost their babies as a result of feeding them Enfamil or Similac. 
Some of the possible treatments for this condition include:
Surgery to cut out the damaged portions of the baby's small and large intestines.

IV feeding to infuse the baby with essential nutrients, vitamins, and antibiotics.

Antibiotics alone.
One of the problems with NEC is that it causes damage rather quickly. This means that you need to get your baby treated right away. Even if they are able to treat their NEC, they could still suffer long-term gastrointestinal issues. 
What Does Your Mass Tort Lawyer Need to Prove?
In all mass tort cases, your attorney will have to prove you suffered some type of damages. Sadly, many of the plaintiffs in the NEC infant formula lawsuits lost their babies. In other cases, affected infants had to undergo dangerous surgery. In either case, your mass tort lawyers will have to prove fault.
The law doesn't require that you prove intent in an NEC baby formula lawsuit. However, you will need to prove negligence. In most of the cases filed against Abbott Laboratories and Mead Johnson Nutrition Company, the claims involve a failure to warn.
Your Mass Tort Lawyer Must Prove Four Specific Things
If the defendants were aware of the dangers of cow milk in infant formula, they had no right to market or sell their products. To prove your case, your mass tort lawyer will have to prove four (4) things.
Your baby was less than 34 weeks old when they were born.

They were fed Enfamil or Similac formula.

They were diagnosed with NEC.

They either passed away or required surgical intervention.
If you can prove these things, you should have no problem filing an NEC baby formula lawsuit.
Contact an Experienced Mass Tort Lawyer Today
If your baby became sick and was diagnosed with necrotizing enterocolitis, you may have a claim for damages. So far, there have been 122 cases filed against Abbott Laboratories and Mead Johnson Nutrition Company. The best way to know for sure is to contact an experienced mass tort lawyer right away.
While it may be some time before the NEC baby formula lawsuit settles, there is a good indication that it will happen at some point. The evidence against the defendants is strong. As the number of plaintiffs increases, so will the pressure to settle.
Call today so we can schedule your free, initial consultation.