If you or a loved one has worked in the firefighting industry, you may have heard about firefighting foam lawsuits. Perhaps you, personally, have developed cancer or a disease because of your contact with the dangerous chemicals used in this foam.
Rueb Stoller Daniel is actively seeking victims who were made sick because of AFFF firefighting foam. Here is the essential information you need to know about this important legal action.
What Is AFFF?
AFFF stands for aqueous film forming foam, often referred to simply as firefighting foam. AFFF has been used in many industries, including but not limited to firefighting, to extinguish highly flammable fires. These are fires that are fueled by gas or liquid and which water cannot extinguish. First introduced decades ago, AFFF proved to be highly effective at putting out these deadly fires.
The problem, however, is that AFFF contains per- and polyfluoroalkyl substances, known more commonly as PFAS chemicals. PFAS are often called "forever chemicals" because they don't break down in the environment. Unfortunately, they also don't break down in the human body.
Over time, they accumulate in the body and can lead to a number of serious health problems like the ones listed below. Although PFAS are found in a number of everyday household products, their use in firefighting foam is particularly dangerous. The use of AFFF has caused toxic PFAS to be released into waterways, the environment, and human bodies.
Firefighting foams containing PFAS have been used ever since the 1970s and up to today. There are numerous manufacturers of PFAS, including DuPont, Chemours, 3M, and over a dozen others. These companies are now facing AFFF lawsuits seeking substantial damages.
Who May Have Been Harmed by AFFF Firefighting Foam?
Civilian firefighters are frequently cited in relation to AFFF lawsuits. However, the risk of PFAS is not limited to this industry. Other individuals who were potentially exposed to the chemicals in firefighting foam include:
Airport workers
Military personnel
Industrial workers
Chemical plant workers
Anyone who worked for an AFFF manufacturer
Anyone who transported AFFF firefighting foam
Anyone who helped incinerate or dispose of AFFF
People who have lived in close proximity to sites where AFFF was used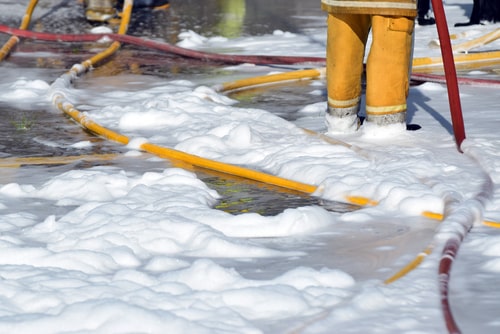 What Sorts of Medical Conditions Are Linked to Firefighting Foam?
A growing body of scientific research has linked firefighting foam with serious cancers and diseases, including:
Kidney cancer
Testicular cancer
Thyroid disease (hypo- and hyperthyroidism)
Hashimoto's disease
Ulcerative colitis
Bladder cancer
Blood cancer (including leukemia, multiple myeloma, non-Hodgkin's lymphoma, and Hodgkin's lymphoma)
Breast cancer
Liver cancer
Pancreatic cancer
Prostate cancer
If you worked in an industry listed above, or otherwise came in contact with AFFF firefighting foam, you may have become sick. You could be eligible for a number of damages associated with the cancer or disease you developed. These may include payment for medical bills, lost wages, and much more.
How Our Law Firm Is Helping AFFF Victims
Manufacturers of AFFF have known of the severe risks associated with PFAS for decades. Despite this, firefighters and others who used or came in contact with AFFF were not warned of the danger. As a result, countless people developed the diseases listed above while manufacturers profited from the sale and distribution of firefighting foam.
When corporations put profits ahead of public health, and people suffer, legal action becomes necessary to win justice for victims. That's where we come in.
Contact Us to Learn More About AFFF Firefighting Foam Lawsuits
If you have questions about PFAS or you're a victim of these "forever chemicals," it's time to take action. Rueb Stoller Daniel is representing those who were harmed by firefighting foam. We can help you win the damages you need to cover medical bills and other expenses and losses associated with AFFF firefighting foam. To learn more about your legal rights and options, give us a call today.