If you've become sick after exposure to AFFF firefighting foam, you may have a valid claim against the manufacturers. Our mass tort lawyers keep abreast of the developments in these cases and can let you know which direction the litigation is heading.
Here, we'll explain the current status of AFFF firefighting foam lawsuits and what kind of damages you could receive.
Why Are AFFF Firefighting Foam Lawsuits Being Filed?
Aqueous Film Forming Foam (AFFF) is used to put out fires that can't be extinguished with water alone. Thousands of firefighters and military service members across the U.S. were regularly exposed to toxic chemicals in the AFFF firefighting foam in the course of their jobs.
Other groups who may have been exposed include:
Airport workers
Industrial workers,
People who worked for AFFF manufacturers
People who transported or disposed of AFFF foam
Many mass tort lawyers have filed claims on behalf of their clients who are suffering from cancer and other serious health issues.
The AFFF Firefighting Foam Contains Toxic Chemicals Called PFAS
There are two main types of firefighting foam, Class A and Class B. Class A foam tends to be innocuous. However, according to the International Agency for Research on Cancer, the chemicals in the Class B AFFF firefighting foam are toxic.
These chemicals, PFAS, are the active ingredients in the foam. PFAS stands for "perfluoroalkyl and polyfluoroalkyl substances." This is what allows the firefighters to suppress and smother fires. They use the foam both in training and when fighting actual fires.
Plaintiffs Allege That the Manufacturers of the AFFF Foam Knowingly Sold a Dangerous Product
The plaintiffs in the AFFF firefighting foam litigation have alleged several claims against the manufacturers of the foam. The major claim is that the manufacturers knew (or should have known) that their product was dangerous but failed to warn consumers.
Another claim is that there was a potentially safer alternative to the chemicals used in the AFFF foam. Had the companies decided to use safer chemicals, the plaintiffs would not have gotten sick or, in some cases, died.
One final claim against the defendants is that their "forever chemicals" have contaminated the soil and water. People who have used this tainted water have gotten sick. Many have developed cancer or other serious illnesses.
Who Are the Defendants in the Firefighting Foam Lawsuits?
The lawyers involved in the AFFF firefighting foam litigation have sued several defendants. Primarily, they are the large corporations that manufactured, marketed, and distributed the foam.
The main defendants in the AFFF firefighting foam lawsuits include:
3M
DuPont
Chemguard, Inc.
National Foam, Inc.
Tyco Fire Products
The Chemours Company
When you meet with your mass tort lawyer, they'll need to know which products you used in your line of work.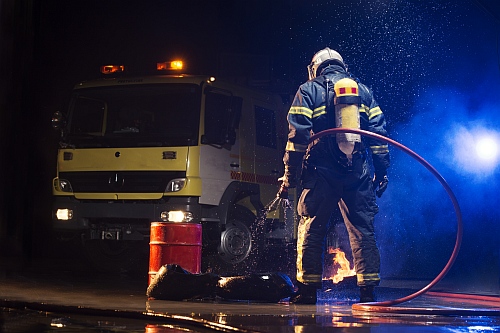 What Does Your Mass Tort Lawyer Have to Prove to Recover Damages?
In order to have a valid claim for damages, your mass tort lawyer will need to show two things. First, they need to demonstrate that you were exposed to the chemicals in the AFFF firefighting foam.
The second thing your lawyer must show is that you were injured. Specifically, you'll have to demonstrate that you were diagnosed with cancer or some other related illness. The types of cancer that have been linked to the PFAS in the AFFF firefighting foam include:
Kidney cancer
Pancreatic cancer
Liver cancer
Testicular cancer
Prostate cancer
The foam has also been found to cause thyroid disease and ulcerative colitis. If you've been diagnosed with any of these illnesses, you should contact a mass tort lawyer right away.
What Kind of Damages Can Your Mass Tort Lawyer Demand on Your Behalf?
In many of the AFFF firefighting foam cases filed to date, the following damages have been listed by the plaintiffs:
Medical bills and damages for future medical care
Lost wages and compensation for lost future income
Pain and suffering
Emotional trauma and distress
Loss of quality of life
Funeral expenses
Obviously, you can only collect damages for injuries you actually suffered. Your mass tort lawyer will have to submit medical records that prove you are sick. They'll also have to link your illness to your exposure to the chemicals in the AFFF firefighting foam.
Have Any of the AFFF Firefighting Foam Cases Settled Yet?
The good news for the plaintiffs in the AFFF firefighting foam is that these cases are starting to settle. For example, in June of this year, 3M settled their claims for more than $10.3 billion.
There is also talk that DuPont is working on a settlement as well. Typically, once one defendant settles, it isn't long before the others follow suit.
The First Thing You Should Do Is Contact an Experienced Mass Tort Lawyer Near You
Our mass tort lawyers have met with dozens of people who have developed cancer after being exposed to the toxic chemicals in AFFF firefighting foam. Many of the victims are firefighters, but members of the military, airport workers, and others have also been affected.
If you think you may have a claim, we suggest that you contact our team at Rueb Stoller Daniel immediately. We can review your case and let you know if you can join the AFFF litigation. Simply call our office at 1-866-CALL-RSD and schedule your free, initial consultation today.