With nearly 5,000 Paraquat lawsuits all over the United States, potential claimants need to know the basic facts about this unsafe product. The lawyers at Rueb, Stoller, and Daniel share answers to the most common questions we get from potential clients on this issue.
Contact our law firm today for a free case evaluation.
What Is Paraquat?
Paraquat is a toxic chemical used as a weed killer in the United States. It is mainly used to destroy weeds and grass on and around crop fields. According to the Centers for Disease Control and Prevention, Paraquat is classified as a "restricted use" substance. This means that only commercially licensed contractors can use it.
The weed killer is in liquid form and applied by spraying. This means that people can easily ingest or inhale the toxic substance.
Despite efforts from various action groups, Paraquat is still approved for use by the US Environmental Protection Agency (EPA). Elsewhere around the globe, 32 countries already banned it, including the European Union and China.
Is Paraquat Found in Roundup?
Many people wonder if Paraquat is in Roundup. The answer is no. Roundup, produced by Monsanto, has a different chemical formula from Paraquat.
While Roundup is a glyphosate-based weed killer, Paraquat contains paraquat dichlorine.
What Is Paraquat Found In?
The weed killer is sold under the trade name Gramoxone. However, it is also available on the market under other commercial names:
Parazone
Para-Shot 3.0
Quick-Quat
Blanco
Cyclone SL 2.0
Firestorm
Helmquat 3SL
Bonedry
Gramxiel
Dexuron.
If you worked with any of these substances or near areas where they are consistently used and developed Parkinson's, you should reach out to our attorneys right away.
How Does Paraquat Poisoning Happen?
Paraquat poisoning may occur in three ways:
Ingestion
Inhalation
Skin exposure.
Ingestion is the most common way that paraquat poisoning occurs. While Paraquat can cause acute poisoning, scientific studies have suggested that long-term exposure increases the risk of Parkinson's disease.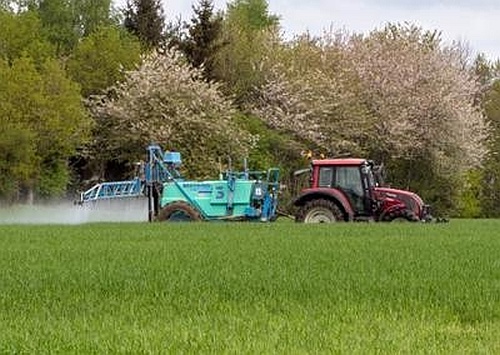 What Are the Symptoms of Paraquat Poisoning?
The symptoms of Paraquat poising may include:
Muscle weakness and fatigue
Increased heart rate
Difficulty breathing
Swelling and pain in the mouth and throat
Seizures
Vomiting.
Paraquat poisoning requires immediate medical care, as it can be fatal if it is left untreated.
Does Paraquat Cause Parkinson's Disease?
Parkinson's Disease (PD) is an incurable and highly debilitating condition. It is caused by a decrease in the production of a brain chemical called dopamine. PD is sometimes genetically inherited. However, in many cases, it is triggered by environmental conditions, including exposure to toxic chemicals.
Several studies suggest a link between exposure to Paraquat and Parkinson's Disease. One study identified a 2.5 times increase in the risk of developing Parkinson's.
What Kind of Damages Can You Recover in a Paraquat Lawsuit?
If you were exposed to Paraquat and were later diagnosed with Parkinson's Disease, you may be entitled to receive compensation for various damages, such as:
Medical care costs, both past and future
Lost wages, loss of future wages, and loss of earning capacity
Costs of nursing care and assistance with daily activities
Loss of enjoyment of life and reduced quality of life
Pain and suffering, including physical pain, emotional trauma, and mental anguish
Depression, anxiety, and PTSD.
Our experienced class action lawyers will evaluate your case and the potential damages you may recover.
How Long Do I Have to File a Paraquat Lawsuit?
The first Paraquat lawsuit was filed in 2017. Since then, it has grown into a multi-district litigation, with new claimants filing suit all over the US. Each of the claimants must follow the statute of limitations in their respective state.
The statute of limitations usually starts running from the moment when you are diagnosed with Parkinson's Disease and your doctor ascertains that you were exposed to Paraquat.
Schedule a Free Case Review!
If you believe that you qualify to file a Paraquat lawsuit, get in touch with the class action lawyers at Rueb Stoller Daniel. We will analyze your information and evidence carefully and will give you an honest legal opinion.
We offer each new client a free case review, so call us now at 1-866-CALL-RSD to schedule yours!