Need to file a hernia mesh case lawsuit in San Diego? It has become normal to see mass tort lawsuits on TV, featuring fancy Hernia Mesh lawyers advocating for your rights and promising substantial financial compensation. However, it's essential to understand that the reality of mass tort cases is far more complex.
Mass tort cases often target large and wealthy companies, involving intricate medical issues and prolonged legal processes that for about a million patients may extend beyond one year. These cases can be arduous and challenging for plaintiffs, as they require significant time and effort.
Despite their time-consuming and demanding nature, mass tort cases serve a vital purpose in protecting individuals from defective and harmful products. Most of these cases involve dangerous drugs, medical products, or pollution, and they play a crucial role in holding responsible parties accountable for their actions.
Where can A Hernia Mesh Claim be Filed?
Hernia mesh has become a common mass tort issue in the recent past. Hernia mesh is used to help repair a hernia, a medical condition where there is a weak spot in the hernia or abdominal wall, causing the intestines to bulge. Doctors use hernia mesh to plug this hole, akin to patching a leak in a swimming pool or bike tire.
However, it's crucial to understand that hernia mesh is not without its flaws. Many patients have suffered complications or experienced serious complications due to its use. Our class action attorneys are currently handling several hernia mesh claims, seeking justice for those who have suffered harm as a result.
Why Do Attorneys in San Diego Believe Hernia Mesh Causes Injuries?
Approximately 90% of hernia repair surgeries in the United States involve the use of various hernia mesh products, with a significant portion of these mesh products manufactured by Bard, a company with a history of involvement in numerous lawsuits related to various defective medical products. Johnson and Johnson is another well-known manufacturer in this context.
With approximately a million patients undergoing hernia mesh procedures annually in the US, a considerable number of them may experience adverse side effects as a result. It is estimated that around 50,000 patients may eventually file lawsuits against hernia mesh implant manufacturers due to injuries sustained during or after surgery.
The primary reason for most hernia mesh repair surgery-related injuries is the material itself—plastic. Plastic can be prone to tearing and breaking, leading to various medical issues, including:
Infections
Chronic pain
Tissue fusion
Bowel blockage and obstructed bowels
Mesh migration
Need for secondary hernia repair surgery
Tearing of internal organs
Mesh traveling through their body
If you or someone you know experiences any of the above issues and has undergone a hernia mesh procedure, it's essential to reach out to a mass tort attorney at Rueb Stoller Daniel for guidance regarding medical bills and potential legal action.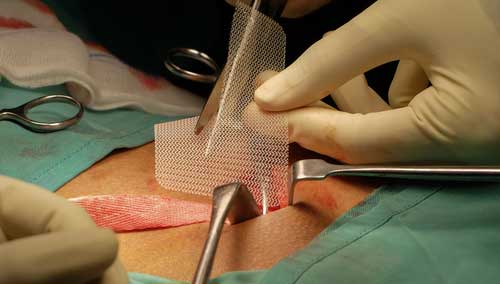 Why Have Mass Tort Lawyers Failed to Succeed In Getting Hernia Mesh Off the Market?
After reviewing the numerous issues associated with the hernia mesh implants, you may wonder why they continue to be used. As previously mentioned, hernia mesh is utilized in approximately 90% of hernia repair surgeries, and it remains available in most countries despite the inherent dangers it poses.
Johnson and Johnson, a prominent medical device manufacturer, has introduced multiple hernia mesh varieties over the years. Some of these variations received severe warnings from the FDA, leading to the removal of one specific version from the market. However, they continue to market other variations.
Lawsuits related to hernia mesh are expected to persist until all the different varieties have been withdrawn from the market. The product's hazardous nature is well-documented, known not only to doctors but also to manufacturers. Mass tort lawyers in San Diego are well aware of the risks associated with the hernia mesh surgery and continue to advocate for those affected.
What Cases are Pending?
While some hernia mesh lawsuits have been dismissed or settled, a substantial number of such cases remain pending, with several class-action lawsuits still awaiting resolution. Some of these cases may ultimately reach settlements, while others are likely to proceed to trial.
Among the notable pending lawsuits involving hernia mesh are those related to:
Bard – Davol Division
These lawsuits involve products from Bard, specifically Composix LIP and Composix E/X. Bard has already expended hundreds of millions of dollars in settling cases. There are currently over 1,800 plaintiffs with federal cases still pending, alongside individual and class-action suits against the company in various states.
Johnson and Johnson (Ethicon)
Ethicon, a division of Johnson and Johnson, is involved in approximately 1,500 pending federal cases related to hernia mesh. These cases are being handled in Georgia, with expectations of additional federal and state lawsuits in the future. The first trial was scheduled to commence in the fall of 2019. Despite not manufacturing the most serious hernia mesh complications, Johnson and Johnson has become a prominent defendant due to its high-profile reputation, drawing significant attention.
Atrium Medical
Atrium Medical manufactures a hernia mesh product known as C-QUR and faces 500 lawsuits against them. Most of these cases have been filed in New Hampshire. It is anticipated that they will confront additional suits over time, similar to other defendants.
Mass tort cases are often consolidated into Multi-Jurisdictional Litigation, where all federal cases are consolidated and tried in one court. This consolidation reduces confusion and streamlines the legal process, resulting in cost savings for both defendants and plaintiffs. Trying these cases in every state would be a lengthy and costly endeavor, potentially costing millions.
Contact a San Diego Mass Tort Attorney If You Have Been Injured by a Hernia Mesh
If you or a loved one has been injured due to hernia mesh failure, it is crucial to consult with an experienced mass tort attorney who specializes in Hernia Mesh Cases. Contact Rueb Stoller Daniel to initiate your claim. It's essential to be aware that there is a specific time frame within which you must file your claim. Missing this window could result in you not receiving the compensation you rightfully deserve.
To get the process started, we offer a free initial consultation. Call us at 1-866-CALL-RSD to schedule your consultation. Our accredited class action attorney will thoroughly examine your case and provide you with valuable information. Having an attorney by your side is vital because the manufacturers and insurance companies will have their legal representation as well, and you deserve strong advocacy in your corner.
We have a free initial consultation to get the process started, call us at 1-866-CALL-RSD for it to be scheduled. The accredited class action attorney is going to look at the case and provide you with more information. It is important to have an attorney by your side because the manufacturers and insurance companies have theirs too.