Law firm Rueb Stoller Daniel is assessing claims from veterans and on-duty personnel who have suffered hearing loss after wearing faulty Version 2 – CAEv2 Combat Arms Earplugs that were made by 3M. If you served the U.S. military between the years 2003 and 2015 and made use of these 3M earplugs then you may be entitled to receive compensation through a Phoenix 3M earplug lawsuit.
3M Company is a Minnesota-based firm. It provided the U.S. military with specially designed earplugs that were intended primarily for combat use, to protect the hearing of soldiers. 3M designed the earplugs to block out the kinds of deafening noises and blasts that soldiers might hear in combat or during tests on bases, while still allowing soldiers to hear people who were speaking to them.
A number of the earplugs that 3M supplied to the U.S. government were defective, and 3M failed to inform the government of this. Due to the issues with the defective earplugs, users were at risk of suffering from partial or complete hearing loss during their service. Phoenix class action lawyers at Rueb Stoller Daniel believe that veterans and active-duty personnel can qualify for compensation for the issues that they suffer from due to the supply of defective earplugs.
When Were Defective 3M Earplugs Used?
During the period between 2003 and 2015, a lot of military personnel were serving in high conflict areas such as Iraq or Afghanistan. The level of noise that personnel were exposed to in these environments could mean that they suffered from full or partial hearing loss or developed tinnitus. These earplugs were designed by a company called Aearo Tech to protect against loud noises and the blast sounds from explosions while still allowing for free communication between soldiers. 3M acquired the design in 2008.
The earplugs were in use for 10 years before someone warned that there were flaws in the way that they were designed. After extensive investigations, it was discovered that 3M paid the federal government $9.1 million to resolve any allegations. This was, in effect, an attempt to cover up the issues since 3M supplied the product while they were aware of the risk to the hearing of soldiers from the design flaws. Fortunately, the use of these earplugs has now been discontinued.
Who is Eligible to File a Lawsuit Against 3M For Defective Earplugs?
If you would like to file a lawsuit, you will need to have been diagnosed with full or partial hearing loss, or tinnitus, by a medical professional. You should have been discharged from the U.S. military, or have been given a loss of hearing impairment rating after assessment by the U.S. Department of Veteran Affairs. You will also need to have been in active service between 2003 and 2015. Both veterans and currently active personnel may qualify for compensation, assuming the key criteria are met.
Which 3M Earplugs are Linked to Hearing Damage?
The issue relates to the 3M dual-ended Combat Arms Earplugs. These earplugs were given to service members between the years 2003 and 2015 and put the people who used them at risk due to a failure in the product design.
Some soldiers reported that the earplugs were too small to correctly fit inside their ears. Poorly fitting earplugs allow noise to reach the inner ear and potentially cause hearing damage.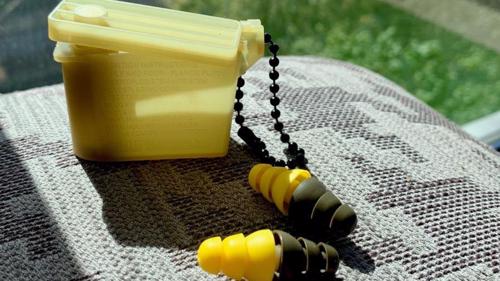 What Problems Did Soldiers Have?
3M's Combat Arms earplugs were shorter than other earplugs that were also in use. This meant that they did not effectively fit into the ear. They became loose over time and subjected the wearer to hearing loss. Some people suffered from lasting tinnitus or balance issues as a result of damage to their ears.
3M claimed that their product offered adequate protection and that the wearer would be protected from hearing damage during combat situations or training. They continued to supply the product even after being made aware of the issues with it.
What Is Military Hearing Loss Or Tinnitus?
Hearing loss is an issue that is often reported by servicemen and women. Tinnitus is another related condition. Tinnitus causes a persistent ringing, buzzing, or hissing noises within the ears, especially when there is no background sound to mask it. Some people who suffer from this condition find it hard to hear someone who is speaking to them from 3 ft away.
The U.S. Department of Veteran Affairs estimates that as many as 2.7 million veterans are in receipt of disability payments for hearing loss or tinnitus caused while they were in service. The condition is quite common, and many people who have reported the issue may not be aware that it was caused by improperly fitted earplugs.
Are There Ongoing Lawsuits Regarding Defective Earplugs By 3M?
The distribution company for 3M made the government aware of its concerns in 2016. A qui tam suit was filed because of the earplugs, with the lawsuit alleging that 3M had made incorrect or deceptive claims about the product and that they had not disclosed any flaws associated with the design.
The Justice Department reached a settlement with 3M for a total of $9.1 million in 2018.
Service members may be entitled to compensation if they take legal action. In 2019 there were several hundred lawsuits filed against 3M for the design of the earplugs.
Let Our Lawyers Handle Your Phoenix 3M Earplug Lawsuit
The lawsuit by the government saw the government get compensation from 3M, but not service members. Users of the 3M earplugs who were in the U.S. military between the years of 2003 and 2015 who have been diagnosed with hearing issues may still be entitled to get compensation.
If you are not sure if your hearing issues were caused by faulty earplugs supplied by 3M, contact one of our product liability lawyers. Our trained, Phoenix-based product liability law team has experience in dealing with this type of lawsuit. Contact the legal team at the Rueb Stoller Daniel law firm at (833) 44-DRLAW to learn more about your options today.