With the growing technological advancements and innovations in the medical world, cases of harmful or injurious devices are never far away. Defective devices often cause serious injury or the death of individuals on which these devices are used. Injured persons or those who have lost their loved ones due to the use of devices like the Penumbra Jet 7 Xtra Flex Catheter can file claims against the corporation in question to seek restitution for their injuries.
Normally, individuals would file separate claims citing the specific damages suffered. Having an experienced mass tort lawyer who is committed to fighting for the rights of individuals is key to obtaining the compensation they deserve. Such cases are never easy, as plaintiffs file cases against some of the biggest and richest companies. What's more, these cases are time-consuming and can therefore be very painful for the individuals involved.
At Rueb Stoller Daniel, we understand the pain that you and your loved ones go through if you have been injured by a harmful and defective product. We are committed to protecting your rights to seek compensation for your injuries or the death of a loved one. If you've been injured or lost a loved one following the use of the defective Penumbra Jet 7 Xtra Flex Catheter, call our mass tort lawyers serving clients nationwide today to discuss your legal options in a free, risk-free case evaluation.
What is the Penumbra Jet 7 Xtra Flex Catheter and What is it Used For?
The Jet 7 Xtra Flex refers to a catheter manufactured by Penumbra and is used for the removal of blood clots from the brain in thrombectomy operations. Catheters such as the Penumbra Jet 7 Xtra Flex are used to restore normal blood flow by suctioning out blood clots. Particularly, this catheter is used on acute ischemic stroke patients, which is caused by a clot blockage of a brain artery. By inserting and guiding the Penumbra Jet 7 Xtra Flex Catheter to the blocked artery, clots can easily be removed due to the catheter's suction power.
FDA Action & Recall
In June 2019, the Jet 7 Xtra Flex Catheter received the green light to be used in thrombectomy procedures in the US. Towards October this year, there were increased reports of serious malfunctions of the device leading to injuries and death of patients. On December 15, 2020, the FDA announced that Penumbra had issued an urgent recall of the Penumbra Jet 7 Xtra Flex Catheter.
Following this recall, the FDA directed that all users stop using the catheter and that all facilities remove this device from their inventory as directed in the Urgent Voluntary Medical Device Recall Notification by Penumbra.
The Penumbra Jet 7 Xtra Flex Catheter recall came after the FDA received more than 200 medical device reports linked to this catheter, including malfunctions, deaths, and serious injuries. In these MDRs, there were 14 unique patient deaths and cases of serious injuries as well.
Affected Models
The JET 7 Xtra Flex catheter, originally cleared under K190010 on June 16, 2019.
The JET 7MAX configuration (which includes the JET 7 Xtra Flex catheter and MAX Delivery Device) cleared under K191946 on February 27, 2020.
This recall does not apply to the Penumbra JET 7 Reperfusion Catheter with Standard Tip.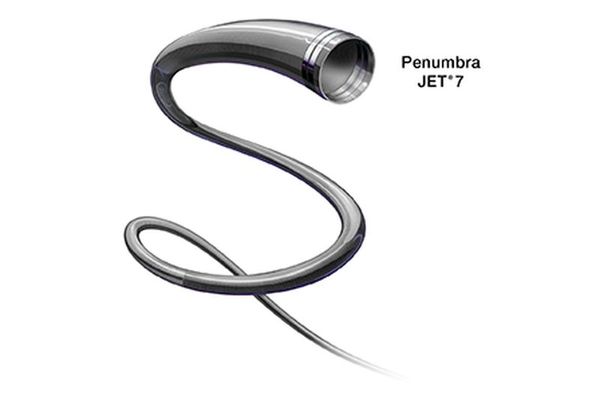 What Problems Have Been Caused By the Jet 7 Xtra Flex Catheter?
The Penumbra Jet 7 Xtra Flex Catheter recall was a result of device failure, particularly ballooning, expansion, rupture, complete separation, breakage, and exposure of supporting coils close to the distal tip region of the catheter. Tests conducted by the manufacturer, which involve plugging and pressurizing the distal tip to fail, proved that the Jet 7 Xtra Flex Catheter isn't able to withstand equal burst pressures to failure as other catheters by the manufacturer used to remove thrombus in stroke patients.
According to Dr. Greg Vigna, MD, JD, "patients again were burned by the 510(k) fast track clearance procedure by a company who did not perform necessary testing of safety for their device…Evidence is suggesting that the device nearly always breaks at the exact same place in the catheter, leading to significant neurological injury and sometimes death". Read more here.
In an early report from September 2019, a patient died after the catheter's tip broke off inside the body in a revascularization procedure. Upon removal, it was noted that the coils at the catheter's tip were "unwound" and "frayed." Some of the injuries caused by the catheter's malfunction include:
Blood vessel damage
Hemorrhage
Cerebral infarction
What Should I Do If I Was Injured By a Penumbra Catheter?
If you have been injured by the Penumbra Jet 7 Xtra Flex Catheter, it is important that you act fast and speak to a lawyer who is well-versed in product liability laws. By speaking to one of our attorneys at the Rueb Stoller Daniel law firm, you will know whether you have a valid legal claim against Penumbra.
If you have used the Penumbra Jet 7 Xtra Flex Catheter and suffered injuries or lost a loved one who used the catheter, then you might have a valid claim. However, going about such claims alone can be difficult and you need an experienced lawyer to guide you through each step. There's no risk in discussing your case with us and learning about your legal options. Reach out to us today to schedule a free case evaluation with one of our personal injury lawyers.
What Damages Can I Be Compensated For?
In claims involving defective medical devices, the potential damages you can be awarded will depend on the losses incurred. What's more, the worth of your claim is determined by several factors, including:
The financial burden caused by defective device
The severity of the injury or, if applicable, fatality
You or your loved one's prognosis and what the recovery process looks like
The psychological and emotional impact of the injury or fatality on you and your family
Generally, plaintiffs in Penumbra Jet 7 Xtra Flex Catheter lawsuits qualify to recover economic and non-economic damages. Economic damages, which are often called "special damages" or "monetary losses" refer to those damages awarded to compensate injured persons for money lost due to their injury. Individuals with Penumbra Jet 7 Xtra Flex Catheter injury claims may receive economic damages such as:
Economic Damages
Present and future medical expenses, including doctor visits, hospital stays, surgery, and physical therapy expenses.
Lost Wages and Income: If an injured person misses work because of the injury suffered, they may receive damages for any lost wages. Individuals who own a business but are not able to attend to them may also receive damages for lost profits. If the injury suffered is likely to keep you out of work in the future, you should demand compensation for loss of future wages and income.
Cost of Disability: Individuals who have suffered an injury following the use of Penumbra Jet 7 Xtra Flex Catheter may be entitled to receive damages for any disability caused by the device. If they incur expenses as a result of changing their lifestyle following their injury, they may have a right to seek compensation for such expenses.
Non-Economic Damages
Non-economic losses are often called "general damages" or "non-monetary losses" and are meant to offer restitution for losses that are difficult to quantify or attach a dollar value to. Some of the non-economic damages injured persons can receive include:
Pain and Suffering: If you have suffered an injury after using the Penumbra Jet 7 Xtra Flex Catheter, you may go through pain, suffering, and mental and emotional anguish. This is especially true if individuals suffer life-long injuries or lose a loved one due to the use of a defective device. While it may be difficult to attach a dollar figure to such losses, it is standard practice that you receive these damages.
Loss of Enjoyment of Life: The injuries suffered after using a defective Penumbra Jet 7 Xtra Flex Catheter may lead to the loss of quality of life. Injured persons may therefore be robbed of their right to engage in activities they previously enjoyed, including sports and leisure activities. In such cases, they might be entitled to receive damages for loss of enjoyment of life.
Loss of Consortium: Sometimes, injuries resulting from a defective medical device may have an adverse impact on your relationship with your spouse. This could include everything from intimate relations to emotional support, companionship, and even loss of affection. In such cases, spouses may have a right to seek compensation for loss of consortium.
How Much Will an Attorney Cost?
There are various costs associated with product liability lawsuits, including court fees, expert witness costs, and costs of working with other professionals. Despite such costs, almost all product liability lawyers will work on a contingency basis, meaning that you only pay after you have won and received compensation. If you lose, you don't pay even a dime. Normally, lawyer's fees are dependent on the case.
At the Rueb Stoller Daniel law firm, our lawyers work on a contingency fee basis. If you're unsure of what it would cost you in your Penumbra Jet 7 Xtra Flex Catheter injury claim, contact us today to discuss all matters regarding attorney's fees with one of our lawyers.
Conclusion
The Jet 7 Xtra Flex Catheter was manufactured by Penumbra to help in the revascularization of patients with acute ischemic stroke. Since its introduction to the US market, there has been increasing concern over the safety of the device. Particularly, the FDA has received reports of injuries and deaths due to design defects in the catheter.
Individuals who have been injured or lost a loved one after using the Penumbra Jet 7 Xtra Flex Catheter can seek compensation for their losses. However, product liability lawsuits can be complicated, and hiring an experienced lawyer with Rueb Stoller Daniel can help your claim process greatly. If you or a loved one has been injured after using the Penumbra Jet 7 Xtra Flex Catheter, it is important that you speak to a lawyer. Call us today on (833) 44-DRLAW to talk to one of our lawyers about your legal options in a free consultation.